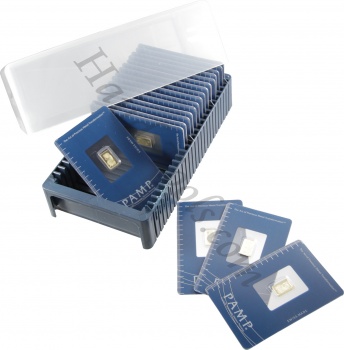 click to enlarge image
click to see a video of the
Pamp Suisse Storage Box for 1 gram to 1 oz Bullion
Pamp Suisse Storage Box for 1 gram to 1 oz Bullion







Gold and Silver products

item description:


Store your precious metals in a safe location with this Pamp Suisse assay storage box. This box stores the credit card sized display cards that hold the Pamp Suisse bullions that range in weight from 1 gram to 1 ounce. The box will also hold other assays that are of the same size. All boxes have been previously used by the manufacturer to ship gold from Switzerland to the USA. Gold shown for demonstration purposes only and not included.


item condition:

new in the original unopened box


item category:

Quantity Available: 2

in stock, order now!

(Inventory last updated December 10 2013)
Estimated ship date: Wednesday December 11th, 2013
Get it by Christmas?: YES!