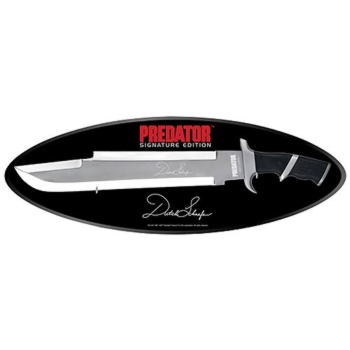 Master Cutlery Predator Movie Signature Edition Knife MC-PR1S

Item Description:
You are looking at the Master Cutlery Predator signature edition knife, model number MC-PR1S. For all fans of the Arnold Schwarzenegger Predator movie, this knife is a true replica of the knife used in the movie.

Arnold was Major Dutch Schaeffer, and along with his team they had to deal with an alien in the jungle. This knife comes with a "Dutch Schaeffer" signature.

The prop replica knife measures 20 ½ inches overall and sports a 14 ¾ inch blade that is ¼ inch thick and is forged using the finest stainless steel. It has a Black Pakkawood handle and is one of just 5000 to be made so once stocks are exhausted we cannot guarantee we will ever be able to obtain further stock.

Individually serialized, each knife has it's own serial number and weighs 40z. The handle section measures 5 ¾ inches so there is plenty to grab on to. Every bit a great superb knife, and every bit a perfect replica of the knife used in the movie.

Why wait? Order your very own Predator (signature edition) knife today from Master Cutlery. Stocks are very much limited. The MC-PR1S is the perfect must-have knife for every single film fan out there who appreciates the Predator movies. If you've any questions whatsoever then please rush your query to us and we will do all we can to help.

UPC Code: 805319050735
Weight: 4.27 lbs
Item Category:
knives

Product Number: MC-PR1S
Quantity Available: 0 (Inventory last updated May 21 2013)



$ 115.45
Please note this item is out of stock. You are welcome to place your order, but please be advised that delivery could take about two weeks.